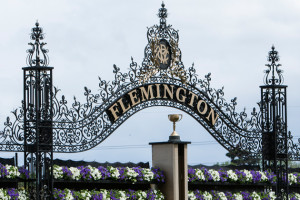 There are plenty of bookmakers offering free bets on the 2015 Melbourne Cup and it is not hard to sign up with several of these bookmakers. We show you how to get over $1,000 in Free Bets on the 2015 Melbourne Cup.
Sportsbet offer free bets on Group 1 races which includes the 2015 Melbourne Cup and all you have to do to get a free $25 bet on the Melbourne Cup is deposit $10 into your Sportsbet account before Tuesday 3rd 2015.
Now I am not sure if Tom Waterhouse will be running his $25 Million Melbourne Cup First 10 this year but last year this actually didn't look like a great bet to me. In fact I think I would of rathered open an Oz Lotteries account and deposited $10 into that and got myself a few $2 lucky lotteries. If you follow the $2 lucky lotteries you will see one lucky punter actually hit the jackpot last week and cashed in a whopping $10,015,000 in Lucky Lotteries Super Jackpot draw 10026. The ticket if you would like to know was sold at AK Newstalk, Shop 1004,Westpoint in Blacktown. As for the Tom Waterhouse $25 Million Melbourne Cup bet… let's just stay I won't be having a bet in this one.
Now we also have Betfair who if you have not signed up with yet offer $150 in cash bets however there is a little catch with this one. That is that you must deposit $50. Which although might be a little catch to get that $150 in cash bets is actually not a bad one. This now opens you up to have a bet on a horse in the cup and then save a bit of money for the exotics like the trifectas and first fours. For this one I suggest you check out our page on Flexi Betting in the 2015 Melbourne Cup.
Luxbet who are backed by Tapcorp are still also running a similar betting strategy to Betfair in that they are offering $150 in cash bets on top of the initital $50 you must deposit. You must use the Luxbet promo page however to get this bet.
Crownbet are offering a $650 Free bet as well but you will need to deposit $500 to get that $650 free bet.  So in total you will have $1150 for Melbourne Cup Day.  They also have the double deposit for new customers where they will match your deposit up to $1,000.
You will notice that I haven't included any affiliate links or direct links to these betting agencies and bookmakers. There is a reason for that and that is that I choose not to be affiliated with any of these agencies as I want to give my subscribers an unbiased report into what each of the betting companies are offering and not just what would pay me the largest commission when you place a bet with them. Be careful of websites who are linking directly to the sites as they are most probably linking to get a commission and don't have any interest in actually getting you a great deal on the Melbourne Cup.