The "Lay the Field Betfair Strategy" is a strategy currently being used by many Betfair customers mainly in Greyhound Racing and Horse Racing markets.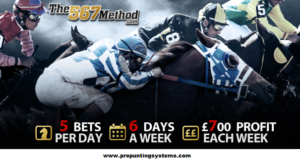 For more Betfair Strategies check out our post on Pete's Betfair Method – Scam Or Legit? – Our Review
Laying on Betfair for a Living – Can it be done?
So how does the Lay the Field Betfair Strategy work?
I have included a video showing how this works as this concept can be a little hard to grasp unless you physically see some of these trades taking place. Basically as an example you are going to set an amount you are willing to risk for each race. I would personally recommend either £10 or £20 just to get started.
So let's say I lay the field for a maximum risk of £10. I use my LTF strategy to lay each horse in the field at odds of £2. Because my maximum risk is £10 I can match with up to 5 horses. Now you will want a pretty open race to even get 5 horses where someone is willing to match at those prices but it does happen. For this example though I want to show what you make in profit for each of these on a Lay The Field Betfair scenario.
If only one of your horses get matched and unfortunately goes on to win the race, you are going to be down £10. But what happens if more than one horse gets matched and there are no dead heats, just a simple 1st, 2nd, 3rd, 4th race. If you are looking for a good Betfair strategy then I suggest reading through Pete's Betfair Method PDF
Whilst it does seem possible to develop a system to lay greyhounds and horses on Betfair for a living I believe you would need more than 1 system to make it work.  You would need several selections per day to be able to make it possible.
Lay the Field Betfair Strategy for 2 matched horses
For 2 matched horses at odds of £2 you are going to break even, again this scenario isn't ideal but what you are trying to do is match 3 or more in a race. It is possible but you are going to need a very open market race.
I like to cross over to my other screens and look at the odds from other bookmakers just for a straight out win and see if I can find a race over on Sportsbet, Centrebet or UNITAB that has 3 horses under $3 or 3 greyhounds under $2.50.
If you can match 3 in a race and there is only 1 winner declared then you have yourself a profit. Pete's Betfair Method Review goes into more depth on this exact topic.
Below is a video showing the Lay the Field Betfair Trading Strategy.
Betfair Trading
I have had a good day betfair trading today and checked my emails and there is a lot of emails asking me about horse racing trading. Also the ways to use betfair to make money on horse racing. Again though if you are after a betfair system that really works free then you are in the right place.
The Peter Butler £50 per day Betfair System PDF is a great starter to introducing yourself to Betfair.
You can find the £50 a Day System Review by looking at our post on Pete's Betfair Method which in my opinion is the best betfair system! Pete shows you how to make £50 per day on Betfair and how you can find yourself making a living on Betfair.
Laying the Field Strategy System Rules for Betfair
I have not traded the horses very much but it is like riding a bike. Once you know what your doing you can trade easily. So this is a trade called Lay the Field. The aim is to find a horse race which is….
– 5F, 6, 7 or 8F
– No clear fav
– Handicap
– 8 or more runners
Then you lay all the runners in the field and set the bets to be 'kept' when going in play. Aim here is to get more than one matched. I like to use 1.60-1.70.
If you get one matched you will lose but anymore you'll get profit!
If you have any questions or want some help with your Betfair Trading then please….
You can also try Cold Trading on Betfair through Betfair Pro for around 100 per year.
betgreen@mail.com
www.betgreen.co.uk
https://twitter.com/RyanBetGreen