Wineachway.co.uk is a membership site where you can bet each way and win on the Horses.
I am going to show you the results from previous years all the way back to 2008.
Here are the results.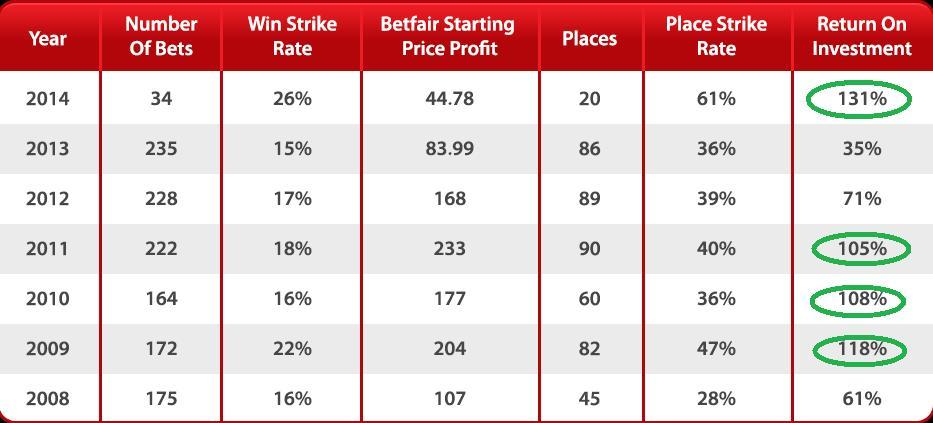 As you can see Wineachway.co.uk have had 4 years out of 7 with a ROI of over 100% and the worst performing year still showed a ROI of 35%.
So what is it going to cost you to get started with Wineachway.co.uk?
Win Each Way costs just £47 and a further £17 a month (up to you if you want selections worked out for you).  For the initial £47, you will receive the system manual (Ebook), with examples of how to identify the selections as well, naturally, as the system rules.
This system also comes with the Clickbank (60 days no question asked refund) so you will have piece of mind knowing that this is not a bunch of rubbish selections otherwise you aren't going to keep subscribing.
You will also get a Bonus if you order today through Propuntingsystems.com of 3 ways to win at Roulette valued @17 USD completely FREE.
Get the Oz Financial Freedom Roulette System entirely free when you purchase a subscription to Win Each Way on the Horses. All you have to do is visit Oz Financial Freedom after purchasing your subscription and grab my email address, send me an email that you have purchased and I will email you a copy of the Roulette System. Yours to keep even if you refund your subscription. That is how confident I am that you will be happy with this system.