The complete run down of a flexi trifecta bet.
So you want to cover several horses or greyhounds in a Trifecta Bet but don't want your outlay to cost your whole pay packet. There is a way. It is called the Flexi Trifecta.
With a Flexi Trifecta you are picking more than your usual three runners which means that if you only put $1 on it then you can only get a percentage of the dividend.
So what will you need for the Flexi Trifecta?
First of all you will need a TAB Flexi Bet Calculator to make sure you realise the percentage of the dividend you are going to receive.
Once you have selected your runners, say for instance you are picking the Melbourne Cup Flexi Trifecta and want to select 5 runners. You then would most likely want to box all of these horses which then brings your dividend percentage down further given that boxing part of a field creates more combinations for the Flexi Trifecta to cover. But this is ok because in general the Melbourne Cup Trifecta and First Four pays very well especially if there is an upset and a horse wins at double figure (think Prince of Penzance in the 2015 Melbourne Cup) or even in some cases triple figure odds (it can happen)
You can make your Flexi Trifecta Bet really pay in a Melbourne Cup by taking a few of these tips on board when selecting your runners for the big pay day.
First make sure that you never leave out the favourite. Sure the favourite can get beat but generally it will finish in the first 4 finishing order. Also make sure to include at least 1 horse over 30/1 that has decent form leading into the Melbourne Cup. For this I want you to think of Horses like Criterion, Hokko Brave, Fame Game, Almoonquith, Who Shot Thebarman. Red Cadeaux in recent years was also a great contender but sadly was euthanised last year after an injury.
Here is some TAB results of how little outlay is required on a First 4 Bet or a Trifecta to win decent amounts.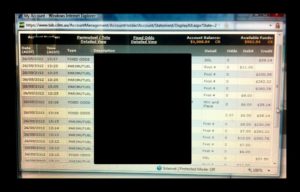 Also look at who Craig Williams and Damien Oliver are riding in the cup. These are 2 of the greatest jockeys in Australia and win their fair share of Group 1 races.
Also it should be noted that the Trifecta late scratching rules are a little different to the Flexi Trifecta. That being that if there is a late scratching all combinations that include the runner that was scratched are refunded on a normal Trifecta Bet. In a Flexi Bet case because you may have put on $10 for your Flexi Bet instead of getting a refund your dividend percentage increases on your leftover combinations. This can be an extremely good outcome if your Trifecta Bet still comes in. Instead of getting 16.66% for 5 runners on a $10 bet you may get 24+%.
There is also the option to standout a runner in your Flexi to increase your dividends. When you standout a horse or greyhound in a field that runner has to win the race where your other selections just need to place 2nd and 3rd in any order. This again increases the win percentage dividend given you have taken away the need for your standout to place 2nd or 3rd in the field.
If you are interested in making regular wins and want to see someone who has done just that with First Four Flexi Betting as well as dabbling in Trifecta Flexi Betting check out Kate McEvoy.