Making Money with Free Bets – How we do it
 First of all to allow yourself to make money with these free bets you will have to sign up to various bookmakers.  If you have a look at the main bookmakers here in Australia you will quickly see that most of them have signup offers as well as deposit matching offers to try and win over your business.
 Look at the different styles of racing.  Horse Racing, Greyhound Racing and Harness Racing.
Next you will want to choose a strategy to follow, I don't just recommend choosing a random number but actually having a system in which you can follow to benefit the most out of getting these free bets.
I find Greyhound Racing is sometimes a little easier as you only ever have a maximum of 8 runners and in a lot of countries that is a maximum of 6 runners.
If you haven't already checked out the Greyhound Racing System – 90 days to $6K Profits I highly recommend you have a look.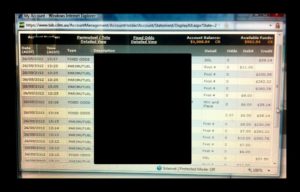 Using the bookmakers free offers allows you to make risk free decisions when placing your bets.  If the bet is a losing one you lose nothing and if it wins you get the money credited straight to your account.  That doesn't necessarily mean that you can withdraw this money right away though, as most of the betting / bookmaking agencies have certain bonus bet rules to abide by.  These may be that you have to turn the bet over a certain amount of times.  As a general rule most bookmakers require the bonus bet to be turned over twice and on a bet paying at least $1.50 here in Australia.
Our $1,000 a month free bets strategy looks something like this.  Signup with NEDS, Sportsbet, Bet Easy, Ladbrokes and Palmerbet.  You should be able to get around $200-$500 in bonus bets with each of these bookmakers.  Now some of these you will be allowed to split up: for example you may get a $400 bet and split that into 8 x $50 bets or $4 x $100 bets with the bookmaker.  You then use the $6K in 90 Days Simple Greyhound System.
Once you have started to build your bank with your free no deposit bets then you can use an advanced dutching calculator and start either dutching the first three favourites or leave out the favourite and dutch bet the next 3 in the market.  Make sure however, that you use a dutching calculator with loss recovery as you may run a number of outs before your bet comes in.  A larger bankroll may also be needed for this method.  See our Betfair Matched Bettors Exploit or  Laying the 3rd favorite Greyhound System for more information.
If you look at the staking plan progression method off this system you will soon see it doesn't experience a great run of outs which means you will be able to use your free bets to use the strategy and never have to risk your own money. You can also use our BuildaBet method.
Make Money Free with Online Casino Offers
As well as Making Money with Free Bets you can also use these methods with the online casinos.  You may have noticed recently more and more no deposit casinos making an appearance on the scene.  These casinos allow you to sign up with them by either downloading the software or some just use online in-play casino browser windows.  Either way they also have some very generous offers for punters to take advantage of.  If you have a Blackjack strategy or Roulette strategy again you can use these bonuses to your advantage.
Unfortunately if you are looking for classics like the Aristocrat free download pokies 50 lions you won't have any luck as these are not licenced to be used online.
One thing I wouldn't recommend is just wasting your bonuses on the online slots at these casinos as generally speaking the odds will be stacked against you given that they generally pay back maybe 90 cents in the dollar.
You can find a list of the most reputable online casinos with no deposit bonuses here.  You can win REAL money with no deposit Required!