Smart Money Law System Results
Results for the Smart Money Law System can vary greatly month by month.  This is very normal for a sports betting system like this as there isn't a great deal of bets so all it can take is a couple of losing days or winning days in a month to show a big variance when looking at the results for that month.
That is 9 out of 10 Bets you will collect a winning on with Smart Money Law.  Each day with the Smart Money Law System you have one bet which is the Best of The Day Sports Bet.  You get an Ebook with this system that explains very simply how to pick your one bet for the day and place a bet.  The ebook also shows you how to turn a simple $10 bet into $235 every bet and even better still how for $100 bets you can make $96,000 + this year.



The Smart Money Law PDF System is a set and forget system meaning that you don't have to sit there waiting for odds to change and betting etc.  You also don't need a form guide as this system does not base anything on past form of a team.  This system only works on sports where there is an A and B side meaning that if there is a draw then you can't use this system to bet on that sport.
The Smart Money Law System differs from Pete's Betfair Methods as it is completely set and forget where the Pete's Betfair Method PDF shows you how to look for bets before closing.
Now I have been trialing this system for over a month now and my findings from those 30+ bets is that while yes I have had winnings, I have had nowhere near the 91.3% winners that the system claimed to have.  Now up until yesterday based on 35 bets I have had 24 winners with an overall profit of 11.5 points.  This equates to $110.50 on $10 bets and $1,105 on $100 bets.  Your overall outlay would of been $350 for a return of $460.50 on $10 bets or an outlay of $3,500 for a return of $4,605 over the 35 days. So overall the figures are a little off the original winnings claim but still not bad at all when compared to other investments such as bank interest etc, although the risk is also less with the banks.  You can even make use of free bets to make money with this method as we discussed recently.
In summing up it is not a bad system at all and especially when you look at the price tag of only $49.95 it is definately a system I am happy with using. By my calculations the overall winners were 68% which is still a great record for a sports betting system.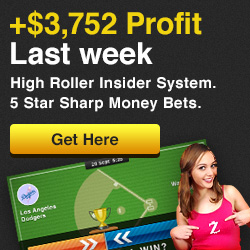 Get the Smart Money Law System cheaper!
This system is currently $39.95 so you should jump on it straight away to avoid missing out.
What exactly will you get with the Smart Money Law System?
Well it depends which package you take up:
The first package consists of:
The Smart Money Law Ebook PDF
A Bonus Weekly Income Blueprint which shows you how to turn a $10 investment into $235 on a weekly basis.
You also get the $96,000 a year Smart Money Law Blueprint.  You will need to be placing $100 a bet to use this Bonus.
Also included is the PRO Bettor's Blueprint – Income Guaranteed for LIFE!
The 2nd Package includes everything that the first one included plus you also get daily picks for life to the Smart Money Law System.  You can login and check out the members area and it is there that you will get daily access to those days system selections.
Propuntingsystems.com rates the Smart Money Law PDF System an overall score of 4/5
Check out our Pete's Betfair Methods Review if you are a Betfair punter.